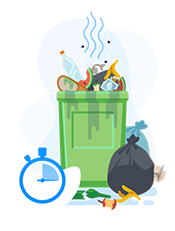 For bins that get REALLY DIRTY FAST
One Visit Per Month
No Contract*
Blasted Clean With 200° Water
Curbside Service
No Hidden Fees
Two Bins Included
+$10 each added bin
For bins that get dirty but not so fast
One Visit Per Quarter
No Contract*
Blasted Clean With 200° Water
Curbside Service
No Hidden Fees
Two Bins Included
+$10 each added bin
No Contract*
Blasted Clean With 200° Water
Curbside Service
No Hidden Fees
Two Bins Included
+$10 each added bin
Quarterly
For bins that get dirty but not so fast
One Visit Per Quarter
No Contract*
Blasted Clean With 200° Water
Curbside Service
No Hidden Fees
Two Bins Included
+$10 each added bin
Monthly
For bins that get REALLY DIRTY FAST
One Visit Per Month
No Contract*
Blasted Clean With 200° Water
Curbside Service
No Hidden Fees
Two Bins Included
+$10 each added bin
One Time
No Contract*
Blasted Clean With 200° Water
Curbside Service
No Hidden Fees
Two Bins Included
+$10 each added bin
*Monthly and Quarterly services require a 3 visit minimum.
Alpine

Highland

American Fork

Pleasant Grove

Lindon

Vineyard

Orem

Provo

Springville

Spanish Fork

Mapleton

Elk Ridge

Salem

Benjamin

Payson

Santaquin
Eagle Mountain

Saratoga Springs

Bluffdale

Draper

Herriman

West Jordan

Riverton

South Jordan
Las Vegas

North Las Vegas
We transform the nastiest garbage cans, getting them squeaky clean
Our specialized trucks are custom made to clean garbage cans blasting them with 200° water through spray heads that reach every inch of your can. In just a few minutes, your garbage can is stink free and clean enough to lick (just kidding, we do not endorse the licking of garbage cans).
Eliminates 99% of the bacteria and germs that fester on your dirty garbage cans.

Deodorizes and sanitizes your dirty garbage cans, which will reduce rodent and insect attraction.

Stinky, nose-plugging smells are history. After our service there's no longer the need for sprinting past your bins.

Simple sign up, scheduling, reminders, and billing. Garbage can cleaning has never been easier.
Delighting Our Customers,
One Bin At A Time
Take a look at the frequently asked questions
about our garbage can cleaning service
Do I need to be home when you clean my garbage cans?
No, you do not need to be home. We will notify you the day before your cleaning day and send you a text message letting you know approximately when we will be arriving. As long as your cans are on the curb and trash free you don't need to do anything else.
Do you clean during the winter season?
Yes, we may. As long as weather permits, we will continue servicing through the winter. Some locations may choose to shut down a few months during the winter, but we will notify you and freeze any plans until we are up and running again.
Why don't you clean on the same day as garbage day?
We may have your cleaning day be the day after your trash is picked up, this is because trash pickup may be later in the evening and due to routing, we may not be able to schedule your stop before the end of the day.
How do I know when my cleaning day(s) will be?
We will ask you when you sign up what day your trash day is, and approximately what time your trash is picked up so we can put you on our route as efficiently as possible.
What if I need to reschedule my cleaning?
If you need to reschedule, contact us and we can move your cleaning day to the next day or next time we are in your area.
What if I have garbage in my can on cleaning day?
If you have garbage in your garbage can on cleaning day, please remove it before the cleaning operator arrives. We also ask that you dump any excess grass clippings if they are stuck in the bin.
Give The Gift Of
Clean Bins
Looking for the perfect gift for your loved one? Give a memorable and unique gift, clean bins!
Got Stinky Bins? Sign Up Today!
Bin Blasters is a garbage can cleaning company that focuses on excellent customer service and quality bin cleaning results. We've cleaned thousands of dirty garbage cans. We quickly and painlessly solve your stinky bin problem.
We've developed an easy sign up and customer service process to help you get your nasty bins cleaned with zero frustration. Simply sign up on our site and we'll handle the rest. We remind you days before your cleaning, clean your bins curbside and walk them back to your garage.
Bin Blasters strives to make your garbage can cleaning experience easy and simple. Reliable and trustworthy service is our number one focus.